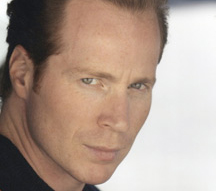 CHRIS MARAZZO graduated with a Bachelor's Degree from New York Institute of Technology in NY in 1995. He continued his Education, studying Screeenwriting at NYU Film School at night while working in Film Production during the day. Sleep you ask? Naah, overrated.
After Casting over 200 Commercials and various projects in NY and LA, including most recently STAR WARS Empire at War: Forces of Corruption with Lucas Arts, Chris has recently completed the edgy Independent Short, EXACT BUS FARE.
The Film stars two powerhouse Stars, Kevin Gage ('Waingro' from HEAT) and Robert Miano ('Sonny Red' from DONNIE BRASCO), who've been stealing scenes in Feature Films for the past 30 years.
The Story is about a Dirty Cop's transgressions that finally catch up with him, forcing him to collide with something worse.
EXACT BUS FARE was Written, Produced & Directed by CHRIS MARAZZO.